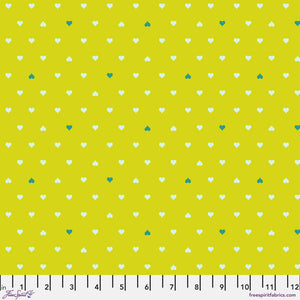 Tula Pink Treading Water fabric has1/4" wide hearts scattered on a green background. It is from her Besties collection.

The listing is in 1/2 yard increments. Choose 2 if you want a full yard. Your total yards will be in a continuous piece.

100% Cotton
44" wide
1/2 yard listing is 18 " x 44"
Stripes are 1/2''wide

Feel free to contact me with any questions!